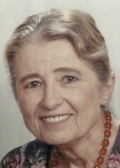 Our deepest sympathy to the family of
Krystyna Dabrowska Ansevin,
88, who passed away on Tuesday, April 23, 2013,
after battling cancer and Alzheimer's disease.
She will be missed by her family, friends
and Polish community in Houston.
Krystyna Dabrowska Ansevin was the first female faculty member appointed to a tenure-track position in AY 1965 in the Department of Biology, Rice University. Professor Ansevin retired from Rice in 1980. She is survived by her husband of 51 years, Allen T. Ansevin and their children and grandchildren. A memorial honoring her life is planned for 3:00pm on May 11, 2013, Saturday. It will be held at the Live Oak Friends Meeting, 1318 West 26th Street, Houston, TX 77008.
Her family requests that in lieu of flowers, memorial gifts be made to Primary Primates, Justice for Children or The Alzheimer's Association
Professor Ansevin's full obituary, speaking of her professional career as well as her passion to help those abused and powerless, has been printed in the Houston Chronicle.