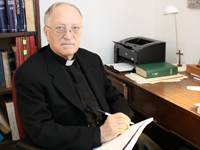 Father Janusz Ihnatowicz has received an honorary degree from the University of St. Thomas during the 2013 Commencement Ceremony on May 18, 2013.

Father Ihnatowicz was born in Poland and ordained for the Diocese of Kielce, Poland, in 1962. He received his bachelor's degree in philosophy from the University College in Dublin, a licentiate degree in sacred theology from the University of St. Paul in Ottawa, Canada, and a doctorate in sacred theology from the Angelicum, Rome.
He joined the faculty of UST in 1969, where he is professor emeritus of theology. Father Ihnatowicz has authored more than 30 scholarly articles in Polish and English. He has published poetry in Polish and English, and his poetry has been recognized for its excellence, including the Fondation Koscielski prize in literature in 1973, the Union of Polish Writers Abroad and the Award for Life's achievement in 2011.
Father Ihnatowicz worked with Pope John Paul II as a writer for his diocesan paper when the Pope was a bishop. Pope John Paul II bestowed the Cross Pro Ecclesia et Pontifice on Father Ihnatowicz.
Read Catholic Online article