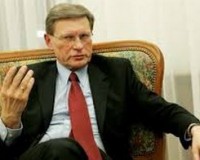 Professor Leszek Balcerowicz to speak at the University of Texas at Austin
Mark your calendar and plan to attend a presentation by Dr. Leszek Balcerowicz, entitled: "Economic Growth in the European Union".
The presentation is scheduled for Tuesday, November 19th at 7:00 pm at Avaya Auditorium ACE 2.302, ACES Building 201 East 24th Street on the UT Austin campus and is sponsored by the UT European Union Center of Excellence (EUCE).
Dr. Balcerowicz is a Polish economist, the former chairman of the National Bank of Poland and Deputy Prime Minister in Tadeusz Mazowiecki's government. He is famous for implementing the Polish economic transformation program in the 1990s, a shock therapy commonly referred to as the "Balcerowicz Plan".
He is a professor at the world's first university institute of postgraduate studies and training in European affairs, College of Europe.
More details will be provided soon by APS and the UT Center for European Studies:
http://www.utexas.edu/cola/centers/european_studies/events/29127