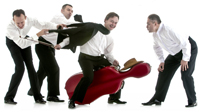 Polish MozART Group will perform in Houston on
FRIDAY, SEPTEMBER 19 2014 at 8:00 PM 
Ticket prices:
Range from $100.00 – $30.00
(Student and Child pricing available.)
Stafford Centre Box-office hours:
Monday – Friday
10 a.m. – 4 p.m. (excluding holidays.)
BUY TICKETS
With a unique blend of classical music and humor, an evening with the MozART Group promises to be a evening you won't forget. 
"We exist despite the sober formality of great concert halls, despite the boredom of classical musicians' life, despite fanatic lovers of classical music, despite fans of rock, rap or pop who are afraid of classical music. We treat our Muse with a humorous irony and we're sure, she will have nothing against it!"
With classical compositions as the canvas, the MozART Group brings fresh life to old classics by analyzing their structures and themes, surrounding them new with musical associations and brilliant, outstanding ideas. The result is that the listener is left laughing, surprised, amazed, and moved to tears.
All four gentlemen of the MozART Group are well educated instrumentalists who graduated from prestigious Academies of Music in Warsaw and Łódz. They have been playing together since 1995. It the beginning, they presented short musical jokes on Canal Plus Television and gave their first debut in 1997 at the PAKA competition of young Polish cabarets in Krakow. In the same year, they presented their first cabaret program entitled "Mozart's still alive". Since then they have performed concerts in Poland, U.S.A., Canada, Kingdom of Bahrain, Latvia, Turkey, Mexico, Costa Rica, Estonia, Slovakia, Portugal, France, Brazil, Germany, China, Czech Republic, Switzerland, Russia and Ukraine. The quartet has also performed with colleagues around the world, including shows with the mime Irek Krosny or the multitalented Bobby McFerrin.
The MozART Group has created a worldwide unique musical cabaret, where the music, not the words are the source of joy and laughter. For a taste of their unique style, watch few video clips below.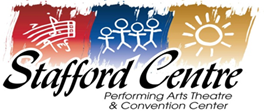 10505 Cash Rd, Stafford, TX 77477, (281) 208-6900
www.mozartgroup.net
Wild, Wild West
Gipsy Kings
You Can Dance
Marsz Turecki