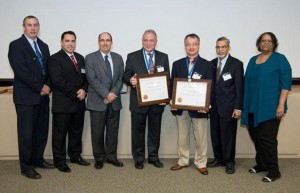 University of Houston Clear Lake Cybersecurity Institute
Dr Zbigniew Czajkiewicz, Dean School of Science and Computer Engineering, has been recognized with a very special award for his exceptional and outstanding contributions towards developing innovative regional partnerships with aerospace and energy industry, NASA Johnson Space Center, and nonprofit economic development entities (GHP, BAHEP,BayTech) for the establishment of Cybersecurity Institute at the University of Houston Clear Lake.

Dean Dr. Zbigniew Czajkiewicz from the University of Houston Clear Lake has shown an unflinching commitment to developing a long-term strong partnership with NASA Johnson Space Center and other partners in research and training for Cybersecurity related regional issue of interest and benefit to Johnson Space Center and regional industry both aerospace and non-aerospace. He has established a broad vision for this partnership that includes developing collaborations in research related to information technology and software engineering related to cybersecurity. This vision is in complete alignment with Johnson Space Center Information and Mission operations initiatives.

Under Dr Czajkiewicz's leadership, the very first inaugural initiative of "Cybersecurity Collaboration Forum and technical interchange" was a resounding success. On April 4, 2013; he helped organize this forum at JSC Gilruth Center that attracted more than 170 participants from local, state, federal government; energy, medical and chemical industries and several economic development agencies. This was an extraordinary event- for the first time stakeholders from relevant industries and agencies had assembled together to discuss pertinent cybersecurity issues and offered a forum to come together and discuss ideas about collaborations in the area of research and training needs to make cybersecurity a priority for regional security and economic well being. Dr Czajkiewicz worked closely with representatives of organizations in the Houston/Clear Lake area, including the NASA Johnson Space Center (JSC) and the Bay Area Houston Economic Partnership (BAHEP) to make sure all stakeholders were providing relevant topics for discussion and speakers to lead the discussion sessions. He was also instrumental in the appointment of Dr T Andrew Yang, an expert, as the director for Cybersecurity institute. These outstanding contributions are a testament to Dr Czajkiewicz's commitment to collaborations with NASA Johnson Space Center.