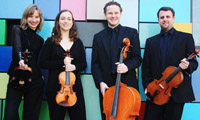 You are invited to the Axiom Quartet season opening concert:
Sunday, October 19 at 7.30PM at University of St.Thomas Cullen Hall. The concert is free and open to the public!
We are very excited to present a diverse and fun program of intricacy and simplicity, juxtaposing selections from J.S.Bach's famous "Art of Fugue" with the minimalistic String Quartet No.2 of Philip Glass. To top that off, the romantic but filled by Bach's influence String Quartet No 1 by Robert Schumann concludes the concert.
You will hear short educational talks by the quartet to introduce the music you hear. It is a great opportunity to listen and learn for you, your kids and your friends!
The parking is free on the streets at UST campus. In addition there is a $2 parking available in the garage. Here is the campus map:
We look forward to seeing you!
Dominika
The Axiom Quartet