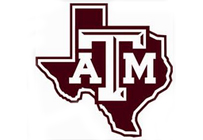 Texas A&M Polish Association is a new organization for the Texans of Polish ancestry.
The president, Michal Ostrowski, invites A&M students to join the organization:
Now that the spring semester is in full swing, we would like to invite you to the first meeting of the newly established Texas A&M Polish Association!
Our meeting will be on February 10th (this coming Tuesday) at 8:30 PM in the MSC Room 2500. This is our first meeting of the semester, and will give everyone a chance to get to know each other!
Free food will be provided as we talk about the parties and events that we will be having this semester. Once we have gotten to know each other a little bit, our adviser Dr. Jim Mazurkiewicz will be briefly talking about his program which provides scholarships to study and work in Poland. One of our officers participated in this program this past summer and will be there to answer any questions you may have.
It's going to be a very exciting semester and we look forward to seeing all y'all there!
Na zdrowie!
Thanks and Gig'em,
Michael Ostrowski President 2014 – 2015 Texas A&M Polish Association
The Association advisor is Dr. Jim Mazurkiewicz, one of the Directors for the Polish American Council of Texas.
Texas A&M Polish Association Info