Dominika Dancewicz invites you all to Axiom Quartet upcoming performance on Sunday, March 29, 2015 at 5PM. This time we will be hosted by the Chapel of St.Basil, a beautiful architectural gem located at the University of St.Thomas campus.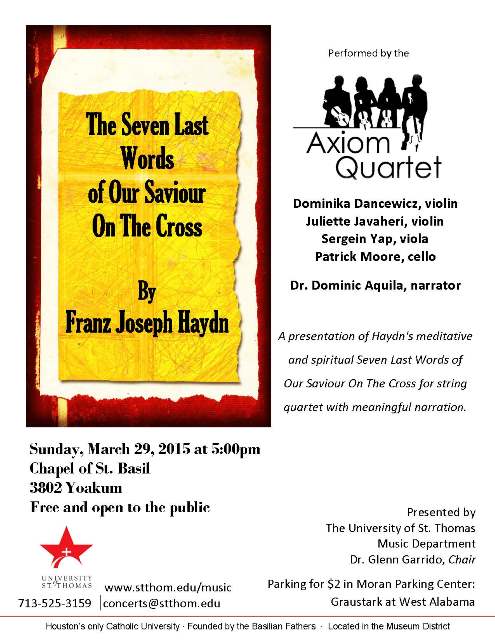 Joseph Haydn's "Last Seven Words of Our Saviour on the Cross" has long been regarded one of the composer's masterpieces. Originally an orchestral work, it was rewritten for the string quartet by the composer himself more than a decade after it was originally published.
It proved quite a challenge for Haydn to compose seven movements (each for one word) evoking different aspects of the Passion, transmitting the solemnity and gravity of the event, but still instilling hope, that leads to the celebration of Easter. Even though the movements (Sonatas) are quite meditative, Haydn's masterful rendition demonstrates lightness and lyrical qualities as much as dramatic aspects of the text.
Axiom Quartet is privileged to be hosted by the magnificent Chapel of St.Basil. In addition, we are thrilled to be joined by the University of St.Thomas Provost Dr.Dominic Aquila, who will be our narrator for the concert.
Whether you are seeking a way to prepare for the celebration of Easter or simply want to enjoy some magnificent music at a wonderful venue – this concert is a place to be! We hope to see you all there!