The Dancewicz/Doucet Duo invites you to our last concert cycle before summer gets here for good. Do not miss the opportunity to hear an amazing program of music that is diverse, intense, beautiful, heroic, grotesque and much, much more…
Two dates, two opportunities:
Saturday, June 13, 2015 at 7.30PM at University of St.Thomas Cullen Hall, Houston, TX
Sunday, June 14, 2015 at 7PM at Southminster Presbyterian Church, Missouri City, TX (located at 4200 Cartwright Rd)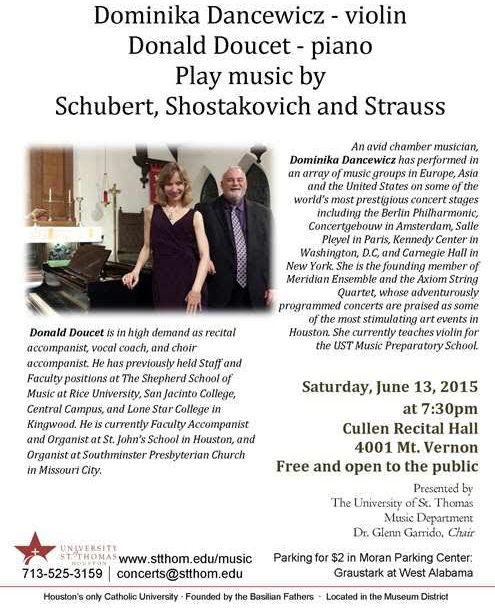 The Duo will present a bit of Franz Schubert in the Grand Duo Sonata in A Major, in which the quintessential Viennese naiveté and virtuosity meets some unexpected darkness.
Also on the program – the rarely heard Four Preludes by Dmitri Shostakovich, arranged for violin and piano by Dmitri Tsyganov. Tiny, usually around 1 or 2 minutes long miniatures evoke what Shostakovich does best – the bombastic and the grotesque underlined by twisted uneasiness.
And finally, the beast of the beasts – the Sonata in E Flat Major by Richard Strauss, the one and only heroic finale to the program.