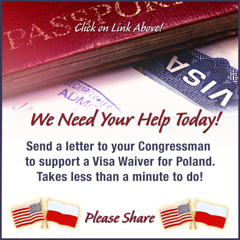 Latest on Visa Waiver for Poland
Ustawa znosząca wizy dla Polaków podróżujących do USA została zatwierdzona 18 czerwca przez senacką komisję ds. wydatkowania funduszy. Ustawę rozpatrzy Senat w pełnym składzie. 

Wnioskodawcami ustawy (S. 1507) o udziale Polski w programie bezwizowym (Visa Waiver Program) są: senator Mark Kirk, republikanin z Illinois i Barbara Mikulski, demokratka z Maryland.
read full article
Kirk-Mikulski bill
Dear Friends:
Three weeks have gone by since we initiated the Visa Waiver for Poland Action Group. Since then we have added dozens of Polish American organizations and community activists form across the country to our mailing list.
The number of cosponsors of the JOLT ACT has also grown steadily since then and now stands at 65. While this is good progress, much work remains to be done, especially in states with sizable Polish American communities.
Many on our mailing list have asked for a one pager that outlines how folks can build support for the JOLT ACT in their communities and where they can find more information. Please share the attached document with your professional and personal networks to make sure that our Representatives in Congress hear form as many of us as possible.
I think one of the most noteworthy developments as far as our efforts are concerned is the adaptation of an online, easy-to-use tool for sending a template letter to members on Congress urging support for the JOLT ACT. This was created by our friends at the Polish American Communication Initiative which is a part of the PIAST institute. You will find a link to the online tool in the attached document and below.
Attached you will also find an image which can be shared on social media with a link to the PACI letter sending tool: http://cqrcengage.com/piast/app/write-a-letter?0&engagementId=16880.
We posted this on the American Polish Advisory Council Facebook page yesterday and are already at 16,000 views which have generated many letters sent to Congress from across the country… all in one day!  Please post and share as widely as you can.
Lastly, please share any relevant information on progress you have been able to make in your districts so that I can include it in the first status report that will be shared with everyone on this mailing list this weekend.
Darek Barcikowski
June 13, 2015
How you can help   Personal letter example  Adresy Senatorow
Darek Barcikowski jest pracownikiem Ambasady Polskiej w Waszyngtonie, ktory zajmuje sie uaktywnieniem Polonii w Stanach w celu zebrania jak najwiekszego poparcia posrod Polskich Amerykanow oraz ich wplywu na kongresmenow oraz senatorow aby poparli ustawe zapwniajace Polsce bezwizowe odwiedzanie Stanow Zjednoczonych.