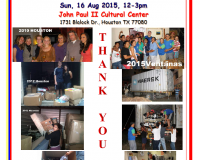 On Aug. 16th 12-3PM Wawel Ensemble and Fu-shen-Fu Foundation Friends invites you to an Ecuadorian Lunch at the Polish Parish.
The lunch is in gratitude to the Polish and Ecuadorian communities in Houston, who supported the effort to send a container with charitable donations to the Foundation in Ventanas, Ecuador. After two excruciating years of bureaucratic tangle, the donations finally reached its destination.
For more information and pictures, see: http://www.fundacion-fushenfu-ecu.org/news/mattresses-pots-computers-and-toys-container-finally-arrived-usa
Special thanks to Houston-Guayaquil Sister Cities Society (Ivan Parra), Bozena & Marek Hunek, Frank Molski, Maryna Kestowicz-Lech, Dr. Pedro & Sylvia Argüello, the Ecuadorian Consulate, Ligia Diaz, Dominik Kisielewski, Jacek, Rebeka & Dominika Mrozkiewicz.