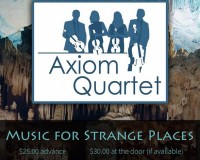 Dear Friends,
We hope all of you had a spectacular summer!
We are very excited to re-invite you all to the magnificent Cave Without a Name in Boerne, TX for this Saturday, September 5 at 7.30pm.
The first ever string ensemble invited to perform in the cavern, the Axiom Quartet plays the exciting, new program: "Music for Strange Places".
As you may remember we were ready to perform this exciting program at the Cave before the summer, on the Memorial Day weekend. Alas, the turbulent weather came our way and we were washed out of the great underground. The concert was canceled.
This time we know there will be no obstacles! We will perform our truly engaging program of variety of styles, eras and approaches coming from all sorts of "strange places" – composers' minds, hearts, and various geographic locations:)
We hope you all can join us out in Boerne, TX in the Cave Without a Name!
The tickets are going very fast and the Throne Room is almost sold out!
You can inquire about the tickets, directions and location here:
http://www.cavewithoutaname.com/content/axiom-string-quartet-1