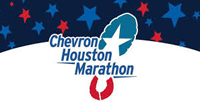 Every year Polish runners participate in the
Houston Chevron Marathon.
This year among them are:
Agnieszka Gortel-Maciuk – Chorzów,
Polish long-distance runner, four times Polish champion at half marathon.
Kasia Hickey – Houston,
busy managing an architectural design office during the week and preparing for the marathon on the weekends.
Artur Kozłowski – Wroclaw,
Polish IT specialist and athlete holding several Polish records.
Kasia Lindhorst – Houston,
a dentist who has ran marathon numerous times and has qualified for the Boston Marathon this year.
Let's cheer our athletes!