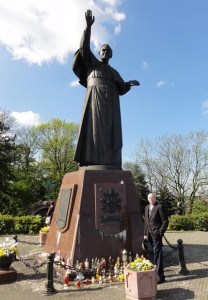 I recently returned from my pilgrimage to Poland. The strength of Catholic piety, the depth of historical remembrance, the beauty of the country, and the warm hospitality of the Polish people made it a most memorable and grace-filled trip.
At the John Paul II Forum we are now preparing for our summer event, a visit by Dr Dawn Eden.
The workshop will be held from June 13-17, and it is not too late to register for it. The workshop is on Saint John PAul II on suffering and love. Registration link is HERE. But if you cannot spend a week attending the workshop, I earnestly hope that you will turn out for her talk on Wednesday evening, June 15, 7pm, at Cullen Hall, on the UST campus. Her talk is entitled "How Divine Mercy Heals Our Memories"
She will explore this question — What impact do our memories have upon our life of faith? When Dawn Eden was a new convert to Catholicism, she thought the pain of her past prevented her from intimacy with God. But, with the help of Pope Francis's Jesuit spirituality, she learned that the truth is just the opposite: "When I unite my own wounded heart with the wounded and glorified heart of Jesus, his wounds heal mine." This talk is drawn from Dawn's latest book, Remembering God's Mercy: Redeem the Past and Free Yourself from Painful Memories. She has been working to spread the word about it, most recently giving interviews to the National Catholic Register website and to "Catholic Answers Live."
Dr Eden graduated the University of St. Mary of the Lake summa cum laude. Her graduation made headlines thanks to Manya Brachear Pashman of the Chicago Tribune, who took an interest in the fact that she was the first woman ever to receive a canonical doctorate from the University of St. Mary of the Lake. See the great article here (pace GetReligion) and the piece by Catholic columnist Matt Abbott (who recently ran an excerpt of Remembering God's Mercy)
Dr Eden was published for the first time on the New York Times' website. The editor of the site's popular Room for Debate section asked her to weigh in on the question of whether women should be ordained deacons. The debate between Dr Eden and female-ordination advocate Christopher J. Hale currently has many reader comments. The reader sentiment at the New York Times is running about 135-1 against Dr Eden. Surprise surprise.
For more frequent updates, I invite you to visit Dr Eden's blog The Dawn Patrol or follow her on Twitter @DawnofMercy.
John P. Hittinger, Ph.D.
Founder and Director
Pope John Paul II Forum for the Church in the Modern World
PO Box 667584
Houston TX, 77266
713-525-2155
website: www.jp2forum.org