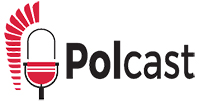 POLcast is the FIRST EVER English language podcast about Poland and Poles around the world. It's a colourful weekly audio magazine delivered directly to your computer, smartphone or tablet.
If you have a Polish customer, colleague, girlfriend or grandmother – you will hear something that will help you to enrich these relations.
Through POLcast you will learn fascinating things about Poland, its culture, customs, geography, history, contemporary issues, as well as all kinds of amazing things Poles around the world do and often surprising connections of the world with Poland. NO POLITICS!
www.mypolcast.com