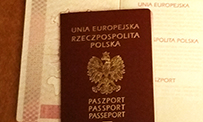 INFORMACJA W SPRAWIE DYŻURU KONSULARNEGO
W HOUSTON, TEKSAS
W dniach 6 i 7 grudnia, 2016 (wtorek i środa) w godzinach 9.00-17.00 odbędzie się dyżur konsularny związany z przyjęciem wniosków o wydanie polskiego paszportu od obywateli polskich.

Address: 9432 Katy Freeway, Houston, TX 77055  (Burzynski Clinic)
OBOWIĄZUJĄ ZAPISY
Aby zapisać się na złożenie wniosku paszportowego należy podać:
1.  Numer ewidencyjny PESEL
2.  Imię i nazwisko
3.  Datę i miejsce urodzenia
4.  Sugerowany termin wizyty: dzień i godzinę
Powyższe Informacje należy wysłać na E-mail: losangeles.kg.paszporty@msz.gov.pl
Opłaty przyjmowane będą wyłącznie w formie MONEY ORDER lub CASHIER'S CHECK wystawionym dla "CONSULATE GENERAL OF POLAND".
The photographers will be available both days to take EU passport photos.