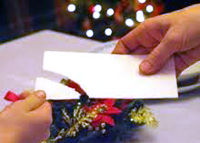 Polish Parish council invites Houston Polonia to share traditional "Opłatek" and a meal after the Sunday 11AM mass. This will be great opportunity to meet friends and wish them happy new year.
Donations are welcome & appreciated!
DATE:
Sunday,  January 8, 2017
TIME:  12PM
WHERE:  1731 Blalock Rd, Houston, TX 77080
Utrzymanie tej pięknej tradycji będzie dla wielu okazją do pierwszego spotkania w Nowym Roku, wspólnego zaspiewania kolęd i spędzenia miłego popołudnia wśród polskich przyjaciół.
Memories from 5 years ago – OPŁATEK 2012