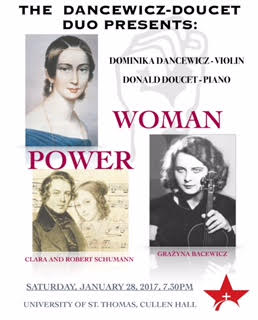 New Year brings a new, exciting program from The Dancewicz-Doucet Duo!
They are are thrilled to invite you to their upcoming concert titled "Woman Power":
January 28 at 7:30PM at University of St.Thomas Cullen Hall.
They decided to tackle the wealth of amazing music that remains heavily underrepresented on our concert stages: music written by women, some of them independent and accomplished, some entangled in relationships and conventions.
Here comes the rare opportunity to hear "Three Romances for Violin and Piano" by Clara Schumann, a proficient pianist and composer who never attempted to compete with the fame of her husband, Robert Schumann. We will talk about their intense and complicated relationship as we complete the picture with Robert Schumann's "Sonata for Violin and Piano in A minor".
Also on the program — "Sonata for Violin and Piano No 3" by the celebrated 20th-Century Polish composer Grażyna Bacewicz, whose highly original music, sparkling with virtuosity, energy and color, gained her wide recognition and accolades in post-war Europe. Practically unknown in the United States, Bacewicz's music will keep you at the edge of your seat, particularly when paired with two short virtuoso pieces: "Polish Capriccio" and "Oberek".
​
This concert is FREE and open to the public, the artist will accept donations.
The Dancewicz-Doucet Duo has earned steadily growing recognition for their compelling, thought-provoking programming. Engagements in 2017 include a short series at the University of St.Thomas and a debut at the Heritage Society Concert Series in Georgetown, Colorado.
The artists are also pleased to announce that their recording of Edward Elgar Violin Sonata op.82, is now available at the following website: www.blondviolin.com, and soon will be distributed worldwide.
​They look forward to seeing many of you there!