Dominika invites Houston Polonia to
Axiom Quartet "Quintessential" – Fifth Anniversary Concert
on Sunday, February 19, 2017, 7:30PM at the  University of St.Thomas, Cullen Hall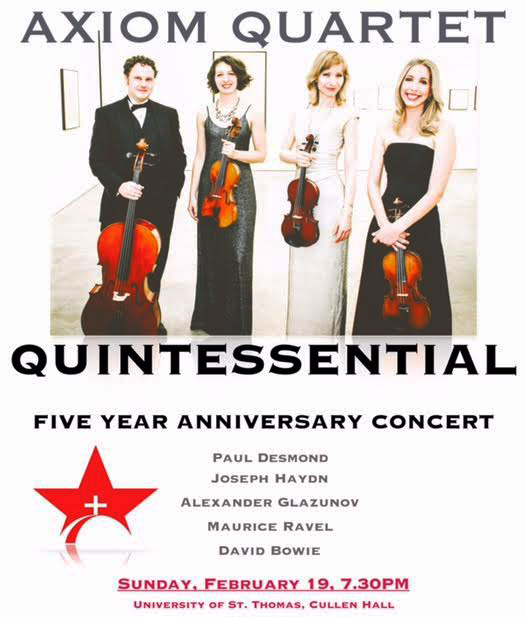 Dear Friends,
It is hard to believe that it has been five years, since the Axiom Quartet first sat down to play together. We have gone through many stages, adventures, ideas and inventive programming since our ambitious beginning. We enthusiastically invite you to join us for our 5th Anniversary program, dedicated entirely to, you guessed it, The Number Five.
As you have come to expect from Axiom, it will be no ordinary string quartet program. Amongst greatly admired master composers – the great Classic Joseph Haydn, the Russian nationalist of the Romantic era Alexander Glazunov, and the iconic Impressionist Maurice Ravel, you will hear some jazz from Dave Brubeck Quartet's Paul Desmond and, last but not least, the forever iconic, David Bowie.
We will give our traditional short TED-like talks in between each piece, which will help you to enjoy the knowledge of how the number five manifests in each the music selections. This concert is a great opportunity to entertain and enlighten your friends, kids, and loved ones.
The Axiom Quartet: Dominika, Ingrid, Nina and Patrick
 For parking and accessibility information please call:
713-525-3159 or email concerts@stthom.edu