One of Poland's greatest film directors, KRZYSZTOF ZANUSSI,  is coming to Dallas!  His lectures scheduled March 27 -29, 2017 are open to public.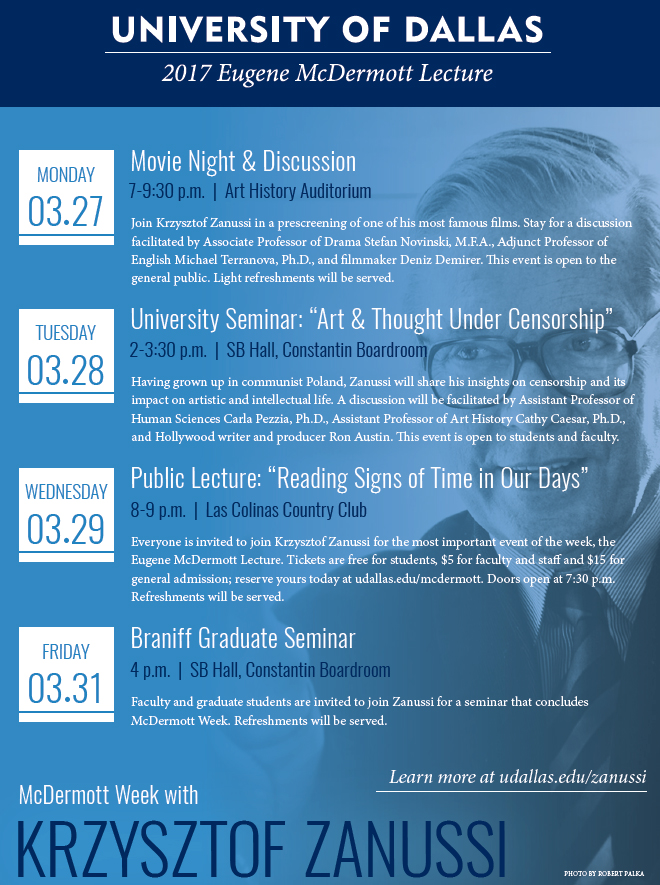 Monday, March 27 | 7 – 9:15 p.m. | Movie Night with Zanussi, University of Dallas Art History Auditorium

Tuesday, March 28 | 2 – 3:30 p.m. | University Seminar: "Art & Thought Under Censorship", University of Dallas Constantin Boardroom, SB Hall
On Wednesday, March 29, the University of Dallas will host the renowned Polish filmmaker Krzysztof Zanussi for our annual Eugene McDermott Lecture.  Zanussi will be giving a lecture titled "Reading Signs of Time in our Days" at Las Colinas Country Club (located in Irving, TX) at 8 p.m. (Doors open at 7:30 p.m.)  Tickets are $15 general admission and can be purchased at udallas.edu/mcdermott.
Find out more about Krzysztof Zanussi's visit to the University of Dallas at udallas.edu/zanussi