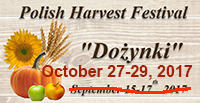 Hurricane Harvey has changed so many plans!  Taking care of flooded houses, helping family and friends is our priority this now. To give everybody time to recover Polish Harvest Festival has been rescheduled to October 27 – 29, 2017.
Contact: Organizer, Adam Dratwa, 832-367-1159
Our Lady of Czestochowa parish grounds, 1731 Blalock Rd, Houston, TX 77080
Entrance – $5
Children under 12 years old – FREE
FREE and PAID Parking available
Free admission for all wearing complete Polish traditional costume!
Festival performers include Houston Folk Dance Group Wawel,  Chris Rybak,
Brian Marshall and new to Polish festivals ZIGGYBAND.