Restaurant "Polonia" invites to a concert  "Rock in Our Hearts" performed by the string quartet Quadrivium.
Friday, December 1, 2017, 7PM
Restaurant Polonia, 1780 Blalock Rd, Houston, TX 77080
My name is Wojciech Pałuba and I am the leader of The String Quartet QUADRIVIUM. 
Quadrivium name comes from Latin and means a crossroads, which symbolizes the meeting of four musicians who want to perform together.  Some of you might know us, as for many years we have been performing on board of various cruise ships.  
Our repertoire includes all kinds of music: rock, jazz, dance, pop and classical.  We all love music and when not on the sea, we also work with symphonic orchestras, individual singers, and theatres, or create music backgrounds for films.
We cordially invite you to our concert on December 1, 2017!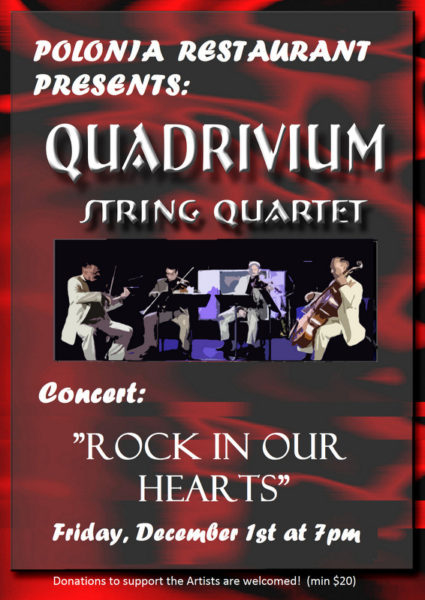 Full Quadrivium Texas Tournée
Houston
Saturday, 11/25/2017, Texas Renaissance Festival, "Renaissance Music over the Years"
Friday, 12/1/2017, Polonia Restaurant, "Rock in Our Hearts"
Sunday, 12/17/2017, Private Concert, "Posadas"
Corpus Christi
Friday, 12/15/2017,  Chopin Society, "Welcome Christmas"
Saturday, 12/16/2017, St. Thomas More Church, "The Best Classical Music Ever"