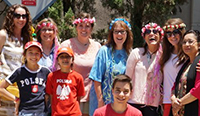 Mark your calendar for Houston Polish Festival 2018!
WHEN       May 4 – 6, 2018
WHERE    Our Lady of Częstochowa Polish Church
The Houston Polish Festival is a cultural extravaganza filled with all things Polish. There's plenty of pierogi, golabki, bigos and kielbasa, but that's not all! Watch traditional dances, listen to live Polish music all day long, taste some freshly made desserts and immerse yourself in the language, customs and culture of the Polish people.
Come back soon for more info!