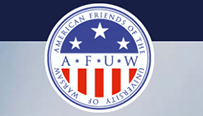 Are you from Warsaw?  Have you studied or wanted to study at the University of Warsaw?
You might consider joining AFUW, American Friends of the University of Warsaw.  This relatively new organization's mission is to strengthen ties between the University of Warsaw and its American alumni, and all American friends related to UW.
Through fueling our minds, creating a community, and being proud of our Alma Mater, we hope to build a one of a kind institution that will have an impact for future generations, for an image of the University and its important position on the international scene. AFUW aims to spread the word about the importance of the University of Warsaw, create interaction and establish strong cooperation between prestigious scientific and educational institutions in both Poland and the United States.
AFUW president, Prof. Waldemar Priebe of Houston has initiated and supported numerous initiatives that benefited both Polish and American science, medicine and culture.
AFUW event will take place in different cities giving the members opportunity to travel and enjoy meeting their  UW friends.
In Polish Press:  Inauguracja koła przyjaciół UW w Nowym Jorku