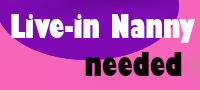 One 3-year-old daughter in school full time and second baby coming end of June. Seeking 5 or 7 day live in. If 5 day, must be willing to help occasional Saturdays with Sunday off day for church etc. Must be able to drive with car to help with school drop off/pick up when Mom is working (part-time). Those days hours will be 6-6:30 am extending into evening help with dinner and clean up (Mom is home by 4-5 Pm).
Must speak English. Must be very flexible as our schedule changes weekly. Days Mom is off you will function as mommy's helper. Must be willing to do children's laundry and on occasion help with family laundry (my cleaning lady usually does this) light housekeeping (load unload dishwasher keep common areas clean take out trash) and make/prep dinner.
Third floor is private for you with full bath. The kitchen is shared first floor.
Must be in good health and active.  Pay is negotiable based on 5 or 7 day and experience.
Contact:  Arpna, tel. 617-285-2065