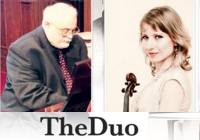 The Dancewicz-Doucet Duo's season finale at the University of St.Thomas Cullen Hall on Sunday, June 10 at 7.30PM.
They are very excited to be joined in a special collaborative program by the sensational local cellist Mark Yee, whose playing has been hailed as "rich and charismatic".
The Duo will become a Trio for this special occasion, as we perform music by Rachmaninov, Brahms and Schoenfield.
Visit www.theddduo.com for most recent updates on Duo's concerts.