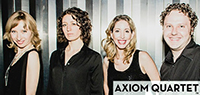 It is time for the last concert of the season.
Axiom has had an amazing year, with our first full-length CD release and the incredible adventure it has been! We are very thankful to all of you for your support and presence. Our concerts have become powerful, moving events thanks to the overwhelming following we receive from you!
We are excited to present to you "Silver Linings" on Saturday, May 26 at 7.30PM at the University of St.Thomas Cullen Hall.