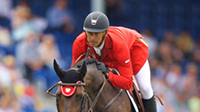 Reprezentacja Polski w jeździectwie konnym zaprasza do uczestniczenia i kibicowania zawodnikom z Polski, którzy biorą udział w Mistrzostwach Świata w Jeździe Konnej, w Tryon, Północna Karolina w dniach 11-23 września 2018 roku.  Nasi Rodacy, wezmą udział w następujących dyscyplinach: skoki przez przeszkody, powożenie, wszechstronny konkurs konia wierzchowego.
Występy Polaków, można również śledzić na stronie: www.tryon2018jezdziectwo.pl oraz na profilu Facebook Polskiej Akademii Jeździeckiej.
Zawodnicy są zainteresowani spotkaniem z Rodakami mieszkającymi w USA podczas trwania zawodów.
Osoba do kontaktu:  Daniel Zawadzki, Prezes Polskiej Akademii Jeździeckiej
Partner wyjazdu: daniel.zawadzki@paj.com.pl,  www.paj.com.pl,
tel. +48606974051
___________________
The Polish National Team in horse riding invites you to participate and cheer for Polish competitors who take part in the Horse Riding World Championship in Tryon, North Carolina on 11-23 September 2018.  Our compatriots will take part in the following disciplines: Jumping over obstacles, driving, versatile competition of a riding horse.
You can also follow Polish riders and their achievements on www.tryon2018jezdziectwo.pl and on the Facebook profile of the Polish Academy of Equestrian (Polska Akademia Jeździecka).
Players are interested in meeting with compatriots living in the USA during the competition.
Contact:
Daniel Zawadzki, President, Polish Equestrian Academy
Departure partner: daniel.zawadzki@paj.com.pl, www.paj.com.pl
tel. +48606974051