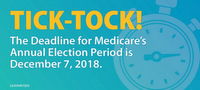 I'm Marina Guzowska, a licensed insurance agent specializing in Medicare. On November 2nd, 3rd, 10th, 16th, 17th, 24th, 30th and December 1st, 2018, between 9:30AM and 3:30PM, I'll be at the Atascocita Walmart location.
I'll answer any questions you have, and we'll work together to pick the perfect plan available to suit your individual healthcare needs. (Be sure to bring your Medicare ID card and a list of your current doctors and prescriptions).
Come in at your convenience – no appointment necessary! For accommodations of persons with special needs at meetings call 346-802-0112.
I hope to see you soon!