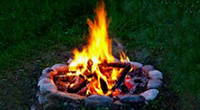 Mark your calendar for the annual Ognisko (bonfire) with Dance Group Wawel.
WHEN  Saturday, February 2, 2019, 7 PM
WHERE Our Lady of Czestochowa Church in Houston.
Come join us on February 2nd, 2019 to celebrate Dance Group Wawel's 8th anniversary! The members of the Houston based dance group hold an annual party and fundraiser on the grounds of Our Lady of Czestochowa Catholic Church. The Wawel Polish Folk Dancers are a non-profit performing group dedicated to promoting Polish culture through song and dance. The group consists of high school, college, graduate students and adults.
The celebration is centered around a big bonfire which is the perfect setting for a cold, clear night! Long sticks will be sharpened so attendees can cook their own kielbasa or marshmallows over the fire. Lots of good food will be available including kielbasa links for cooking along with ready to eat kielbasa and onions, kiszka, fajita, bigos, pierogi and soup. There will be a wide array of delicious desserts for sale as well as drinks and mixers. Raffle tickets were also available with lots of nice prizes. Edward Winarski will entertain the crowd with music and songs.
Please feel free to bring your own beverages! See you there! The more the merrier!