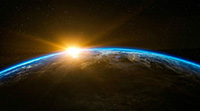 Polish singers of the International Voices Houston Choir invite Houston Polonia and friends to a spring concert Calling All Dawns.
Saturday, March 23, 2019, 7 PM
Sunday, March 24, 2019, 3 PM and 7 PM
Midtown Arts & Theater Center Houston (MATCH), 3400 Main Street, Houston, Texas, 77002
The vast world comes together through the universal language of music. International Voices Houston, the city's premier multicultural community choir, presents a moving mosaic celebrating unity within a diverse world.