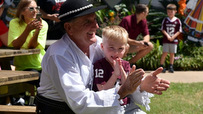 This year Houston Polish Harvest Festival is on
September 20 – 22, 2019
Based on the centuries-old Polish tradition of Dożynki, an end of harvest celebration brings to Houston Polish traditions combined with modern entertainment.
WHERE: 1731 Blalock Rd, Houston, TX 77080
Visit www.polishharvestfestival.org for more information and Festival updates!
People from all backgrounds are invited. There will be Polish food, Polish beer and wine, dance and musical performances, a vendor market, a kids zone, silent auction, and more.
The tradition continues! Check DOŻYNKI 2009 Photo Gallery!
and 2013 video memories: