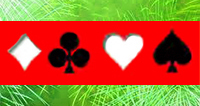 Polish Bridge Club is taking
summer break to meet again in September.
New members are welcome! To join the club,
send an email to polbridge@gmail.com.
From Club members:
Spotkania odbywają się w domach graczy, członków klubu. Gramy towarzysko, choć są wśród nas mocni gracze i czasem zbiera się turniejowy stolik. Zwykle są 2 – 3 stoliki. Spotykamy się koło 7:30 i gramy mniej więcej do północy. Każdy przynosi coś do jedzenia i picia.
We usually meet on the third Friday of each month in one of the Club member's home. About a week before the meeting we receive an invitation with the address. We start at 7:30. Everybody brings something to eat and drink (potluck style) and we play till midnight, sometimes much longer.
Zaproszenia wyslyłamy przez Evite, wiec wszyscy wiedzą kto będzie na spotkaniu. Nasz klub to po prostu grupa Polaków, którzy lubią od czasu do czasu zagrać w brydża.