Grand & Glamorous – September 29, 2019
Power, virtuosity, depth, and refinement… These are the characteristics that are at the heart of our exhilarating season opener. The program will begin with the thrilling String Quartet No. 1 by Alberto Ginastera. This energetic work shows off the quartet's virtuosity through exciting melodies and driving rhythms that are found in the music from his native country of Argentina. Moving across time and country, the program moves to Franz Schubert's monumental String Quartet No. 15 in G Major. Composed on a large scale work, it is almost symphonic in nature; a musical world inlaid with gorgeous harmonies and lively, insistent energy. The concert will be presented in Cullen Hall at the University of St. Thomas and begins at 7:30 PM.

Tickets are on a first-come, first-serve basis. A suggested 25$ donation is encouraged, but not required.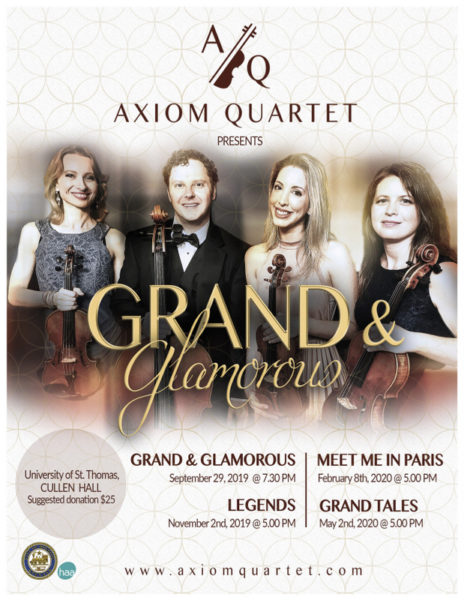 Over the span of four concerts, the Axiom Quartet's 2019-2020 season, "Grand and Glamorous", exudes music of refined elegance and virtuosity brilliance. Holding nothing back, the season will include:
Monumental Quartets by composers such as Beethoven, Schubert, and Tchaikovsky.
A focus on Houston by performing works by local composer Pierre Jalbert and Rice University alumna Gabriela Lena Frank.
A special concert dedicated to your favorite pop songs where the quartet transforms into a live jukebox.