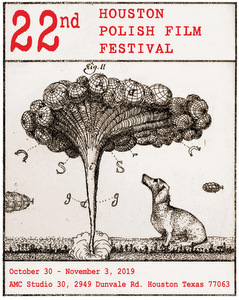 Wednesday, October 30 – Sunday, November 3, 2019
AMC Studio 30, 2949 Dunvale, Houston, TX 77063

Festival poster by Polish Artist, ARTUR POPEK
We are pleased to announce renowned Festival guest, the winner of the GOLDEN LYONS at the POLISH FILM FESTIVAL in GDYNIA this September, AGNIESZKA HOLLAND. She will present her film "MR. JONES"
and/or browse movie trailers below
Obywatel Jones -"Mr. Jones", (2019) director Agnieszka Holland – Saturday , November 2
Based on real events, the dramatic thriller "Gareth Jones" chronicles a British investigative journalist as he travels deep into the Soviet Union to uncover an international conspiracy, and Stalin's genocidal famine in Ukraine, which killed almost 10 million in the early 1930s.
Boże Ciało – "Corpus Christi" – (2019) director Jan Komasa
Inspired by real events, this film is a story of a 20-year-old Daniel who experiences a spiritual transformation in a Youth Detention Center. The crime he commits prevents him from applying to the seminary and after his release on parole he is sent to work at a carpenter's workshop. However, Daniel has no intention of giving up his dream ..
Czarny Mercedes – "Black Mercedes" (2019) director Janusz Majewski
The story of the investigation to unravel the mysterious death of a beautiful young woman in Nazi-occupied Warsaw. She is a Jewess kept hidden by a Pole, attorney Karol Karlzer. Before the outbreak of war, the woman was his student as well as the object of his unrequited love. The case is assigned to Detective under the control of the German occupiers, but also a soldier of the Polish underground. It is a suspenseful story set in the faithfully-recreated reality of occupied Warsaw and Zakopane.
"PIŁSUDSKI" (2019) director Michał Rosa, Sunday, 8 PM
In 1901, a psychiatric hospital in the Russian partition is home to a political prisoner, Józef Pilsudski. The Polish underground independence movement is preparing their mission to rescue the famous activist. Pilsudski is freed, but he will not get back his idyll family life that he once knew.
"THE IRON BRIDGE" (ŻELAZNY MOST") (2019) director Monika Jordan-Młodzianowska
Assigning tasks to miners working underground, foreman Kacper sends his friend Oskar to the deepest and farthest coal seams so that he has more time for secret meetings with Magda, Oskar's wife. One of the lovers' rendezvous is interrupted by a phone call from the mine: after an unusually powerful explosion, there's no contact with the miners working underground. As it soon turns out, no one knows what has happened to Oskar. Deep remorse the lovers suffer makes it impossible to continue their relationship. They both want to compensate for their guilt. The rescue mission is on its way to find and save Oskar.
"THE MESSENGER" ("KURIER") (2019) director Władysław Pasikowski
Polish war hero Jan Nowak Jeziorański hits the big screen in new James Bond-style action film. A man of extraordinary courage who was serving as an emissary between the commanders of the AK resistance movement (Home Army) and the Polish Government in Exile in London, as well as other allied governments, he came to be known as the Kurier (AKA THE MESSENGER) from Warsaw.
"PLAYING HARD" ("ZABAWA ZABAWA") (2018) director Kinga Dębska
We look at three women. The 40-year-old prosecutor Dorota, the young student Magda and a distinguished surgeon, Teresa. They have something in common, an alcohol addiction.
"TAXING LOVE" ("PODATEK OD MIŁOŚCI") (2018) Director Bartłomiej Ignaciuk
Klara is chasing a cynical tax crook. After a while, she loses control and falls in love with him causing a cascade of unpredictable events.
"THEIR LUCKY STARS" ("CAŁE SZCZĘŚCIE") 2019, Director Tomasz Konecki
"Their Lucky Stars" is a charming summer-holiday-vibe story of love that appears in unexpected circumstances. The peaceful and organized life of Robert (Piotr Adamczyk), a symphony orchestra musician and single dad to a ten-year-old boy, Filip (Maks Balcerowski), takes a sudden turn when Marta (Roma Gasiorowska), a charming and energetic popular fitness star runs into it. Two dissimilar characters, two different takes on love and life. Marta has her own TV-shows and writes culinary books, and her face appears on the covers of the most popular magazines. Robert is a walking denial of the "sporty way of life". A go-getting celebrity and a man intimidated by her charm. Why did fate bring them together? Will they be able to find their happiness with each other?