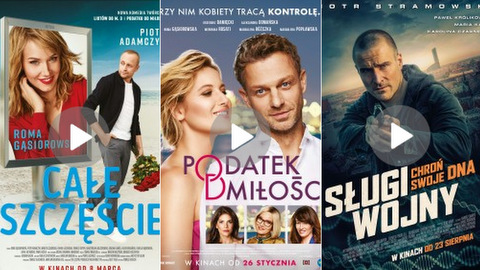 THEIR LUCKY STARS -"CAŁE SZCZĘŚCIE" (2019) Director Tomasz Konecki, Friday, November 1, 2019, 7 pm
Summer-holiday-vibe story of love that comes unexpectedly. The peaceful and organized life of Robert (Piotr Adamczyk), a symphony orchestra musician and single dad to a ten-year-old boy, Filip (Maks Balcerowski), takes a sudden turn when Marta (Roma Gasiorowska), a charming and energetic popular fitness star runs into it. Two dissimilar characters, two different takes on love and life. Marta has her own TV-shows and writes culinary books, and her face appears on the covers of the most popular magazines. Robert is a walking denial of the "sporty way of life". A go-getting celebrity and a man intimidated by her charm. Why did fate bring them together? Will they be able to find their happiness with each other?
TAXING LOVE – "PODATEK OD MIŁOŚCI" (2018) Director Bartłomiej Ignaciuk, Friday, November 1, 9 pm
Klara is chasing a cynical tax crook. After a while, she loses control and falls in love with him causing a cascade of unpredictable events.
PLOT – "SŁUGI WOJNY" (2019) director Mariusz Gawryś, Friday, November 1, 10:30 pm
Two policemen are delegated to solve the mystery of the murder of a doctor, bone marrow transplant specialist and head of a transplant company.