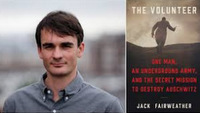 We are pleased to inform Houston Polonia and Friends about the meeting with Jack Fairweather, author of "The Volunteer: One Man, an Underground Army, and the Secret Mission to Destroy Auschwitz"
on November 5, from 7:30 PM to 9:00 PM
at the Kaplan Theater, 5601 S Braeswood Blvd, Houston, TX 77096.
More information: www.erjcchouston.org
The best-selling book The Volunteer, is about the remarkable Witold Pilecki. The book is being translated into 12 languages and will be the basis of a major film in 2022.
The book is available on Amazon!
Read NPR interview with Jack Fairweather
We enjoyed a film about Witold Pielecki at the Polish Film Festival in 2008.