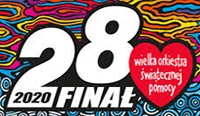 28th Grand Finale of Great Orchestra of Christmas Charity that will take place on January 11th, from 2pm to 6pm at the Amphitheater at Mueller Lake Park in AUSTIN.
4550 Mueller Blvd, Austin, TX 78723
This family-friendly, free-entry will offer live music featuring a brass band Blowcomotion, a rock band The Planet Texas, and a Polish artist Amy Maniak. We will also have free yoga classes, book-swap, art&crafts vendors, activities for kids, interesting auctions, CPR classes and much more. We will also host GOCC approved volunteers with our traditional collection boxes.
All funds raised will be transferred to finance the purchase of medical equipment for pediatric surgery and subsequent treatment in Poland.
Check for updates on WOSP Austin
Do you want to get involved in organizing this event? Contact Anna Zieleniewska, aezieleniewska@gmail.com