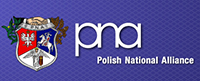 Sunday, January 12th at 2 pm
Election of officers/Council and Polish Home Directors & President representative, Polish Home By-Laws
Place: Polonia Restaurant, 1780 Blalock, Houston, Texas 77080.
RSVP – Please let us know if you can attend: 713.805.5810 or Jola@drydeneventproductions.com
Polish Progressive Membership Dues for 2020 are currently due.
Dues are $10 per year per member with $3.00 of each due paid by members going to a scholarship fund which is awarded in May of 2020. The 2019 year's scholarship winner was Christopher Odolski.
Friend us on our Facebook Page: https://www.facebook.com/PolishProgressive2336Houston
Like us on the page: https://www.facebook.com/PolishEventsandHappeningsinTexas
Please mark your calendar for these following events more will be added:
January 12th, Progressive Lodge 2336 Meeting
January 12th – Polish Parish Wafer Meal at noon at Our Lady of Czestochowa Church Houston
Council 182 Meeting – Sunday, January 12th, 2020
Polish Home Annual Meeting, Sunday, January 26, 2020
Polish School Carnival – February 15th at Our Lady of Czestochowa Church
Easter Celebrations/ Święconka – Blessing of the Easter Baskets and Easter Rabbit Meeting, April 11th, Our Lady of Czestochowa Catholic Church Houston
Polish Spring Festival – May 1-3rd –(Tentative) – Houston, Texas
Bremond Polish Day – Polski Dzien – June
Wishing all the Best for a wonderful New Year 2020!
Jolanta Mazewski-Dryden
Tel: 713.805.5810
jolantonina@yahoo.com or jola@drydeneventproductions.com