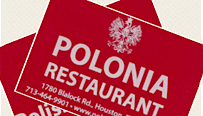 At Polonia Restaurant we continue to closely monitor the COVID-19 and the impacts on our great city of Houston. As part of our high standards, we adhere to strict food handling and safety guidelines as health and wellness as it is our top priority.
We will be closed and open for orders to go only 11 AM to 6 PM
Tuesday – Sunday.
We will be closed today, Sunday March 15th at 3:00 PM.
Our Polish Food Store will operate Tuesday – Saturday from 11 AM to 6 PM.
!!!PLEASE BE SAFE!!!
Andrzej Szpak