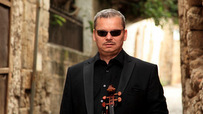 Wojciech Paluba, the leader of the String Quartet "Quadrivium" happened to be in Houston when the Coronavirus pandemic started. He is still here, with the same hope we all have – our lives going back to normal. Meanwhile, he needs to work.
He would like to offer his musical knowledge, skills and experience to teach violin. He is ready to give lessons for children or adults. He is prepared to teach via iPad or in-person and customize lessons for each student.
To plan violin lessons for you, your children or grandchildren contact: paluba12@wp.pl, tel. 713-983-6886
"Quadrivium" performed twice for the Polish community in Houston. The most memorable concert was on November 11, 2018, in celebration of the 100th anniversary of Poland gaining its independence.
The group performs many on the cruise ships, giving the audience very versatile shows for all ages and tastes.