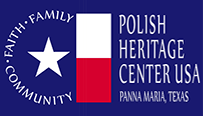 The Polish Heritage Center USA at Panna Maria, which honors the first and oldest permanent Polish settlement in America, seeks a Librarian / Archivist. The Librarian will report to the Executive Director.
The successful candidate for this position will hold a degree in Library Science, Museum Studies, Archival Management or other relevant field and have a minimum 3 – 5 years experience in a library/archives setting.
The librarian/archivist will manage daily operations of the PHC's Library including development and maintenance of library policies and procedures, direct collection development and implement best practices for preservation of collections which will include books, photographs, audiovisuals, recordings, manuscripts, documents, stories, objects and memorabilia. Additionally, he/she will be responsible for maintaining library databases and statistical records, creating and providing research services for off-site patrons, and developing instructional programs and teaching materials for using online library databases.
The preferred candidate will be of full or partial Polish heritage and have a passion for Polish heritage and history, knowledge of genealogical sources and familiarity with copyright issues.  Polish language skills would be helpful.
Compensation for the position is in the 40-50K range w/benefits.
Interested applicants should contact Mr. Aloys Notzon, Vice-Chair, Board of Directors, at 210-846-1717 or alnotzon@grandecom.net for more information, or view website at https://polishheritagecentertx.org.