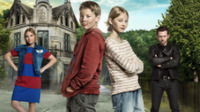 DOUBLE TROUBLE (2017), Dir. Marta Karwowska
Available for streaming 8/27 – 9/9/2020
Presented by Polish Film Festival Miami, Late Summer Nostalgia – an online retrospective of Polish cinema streaming for free
Round up the whole family for an adventure story about two 12 year-olds on a hunt for hidden treasure.
Friendship is not easy, and Julka knows it all too well. She is 12 years old, attends boarding school and has never had a real best friend. When summer arrives, troubles begin; instead of joining her parents in Canada, Julka goes to visit her aunt in Warsaw, where she meets Olek, a boy who lives next door. When the kids discover a treasure map, a true adventure begins. Double Trouble is a story about both childhood's exciting adventures and the loneliness caused by the absence of parents. The kids eventually learn that friendship is always best cemented when the going gets tough.

The film features a young generation of Poland's female filmmakers at the helm: Marta Karwowska (director) and Aga Dziedzic (producer), and includes the debut of child actors Hanna Hryniewicka and Jakub Janota–Bzowski, joined by renowned Polish actors: Joanna Szczepkowska, Krzysztof Stroiński, Piotr Głowacki and Roma Gąsiorowska. In September 2020, Double Trouble II will premiere in Poland (and we're working on bringing it to the United States!).