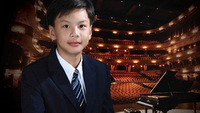 The Embassy Series, in cooperation with the Embassy of the Republic of Poland, is proud to present a virtual concert in a demonstration of perseverance and global solidarity on Wednesday, October 14th at 2:00 p.m. Twelve-year-old award-winning classical pianist Matthew Chang will perform two of Chopin's most consequential pieces in a performance that is sure to delight the program's online audience.
The concert will also highlight two anniversaries that Poles and the international community celebrate this year: the 40th anniversary of Solidarity's inception in Poland, as well as the 210th anniversary of Chopin's birth, celebrated in Poland – and beyond – as the Year of Fryderyk Chopin.
The Residence's Steinway piano was gifted by the "$100k for the 100th" Committee
and in memory of Randall J. Kay.