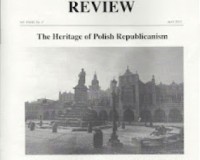 Dr John Guzlowski's blog "Writing the Polish Diaspora" published a laudatory article about Houston's "

Sarmatian Review

:"
One of my favorite periodicals focusing on Polish and Polish Disapora issues is The Sarmatian Review edited by Professor Ewa Thompson of Rice University. Each issue contains information about Poland, its culture and history, and its traditions. There are other journals that promise the same thing, but Editor Thompson has a lively sense of what will be interesting to her readers and she never disappoints.
Read the whole article <<
This article has been published on Sarmatian Review's 32th anniversary.

Congratulations to Professor Ewa Thompson, Sarmatian Review's editor!   When she started many years ago, she did not expect the greatest universities like Harvard or Stanford to subscribe to this publication.  Now almost 300 universities have either printed or electronic version of "Sarmatian Review' in their libraries.
   Sarmatian Review Back Issues <<  
4/13/2012
---