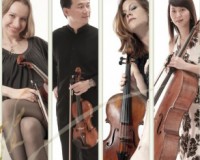 Polish violinist Dominika Dancewicz invites you to Meridian Ensemble's final concert of the season!
On Thursday, June 7, at 7PM at Christ the King Lutheran Church in the Village the ensemble will perform two exciting pieces:
Robert Schumann's String Quartet op. 41 No 1
Claude Debussy's String Quartet in G minor
Contrasting on many fronts these two works represent great chamber music roots based in Classical and Romantic eras, as well as prolific vision beyond their times. Schumann, one of the most tragic figures in music history, draws deeply from best traditions of the genre established by his predecessors. Debussy, a beacon of Impressionism, paints colorful and ecstatic images of new inspirations seeping into the arts in his lifetime.

Exciting stories about the composers, their times and the music are coming to you at the concert – as always we will talk about what you are about to hear with wit, fun and engagement!
We will accept donations at the event (suggested $15-$20). However, please do not let the money stop you, your loved ones or your friends from coming to hear us. Everyone is welcome and we are excited to see you!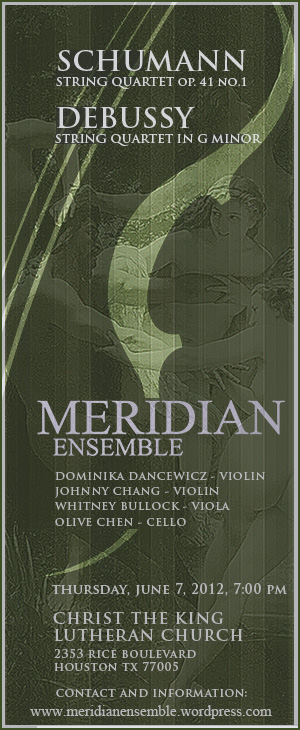 www.meridianensemble.wordpress.com
Dominika Dancewicz – violin I
Johnny Chang – violin II
Whitney Bullock – viola
Olive Chen – cello


Thursday, June 7, 7PM
Christ the King Lutheran Church, Parish Hall
Parking available at the church (please, disregard the orange cones if you see any in the lot – they are there to indicate parking for concert patrons), there should be plenty of parking available on the street as well.
We look forward to seeing you on June 7!"
---