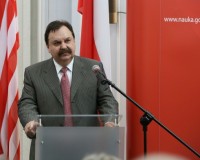 7-2-2012
W dniu 2 lipca w Ministerstwie Nauki i Szkolnictwa Wyższego nastąpiło podpisanie umowy o współpracy między Centrum Chemii, Biologii i Medycyny Translacyjnej a MD Anderson Cancer Center.
W uroczystości wzięli udział  minister Jacek Guliński, Martina Strong, radca ds. polityczno-ekonomicznych Ambasady USA w Warszawie oraz przedstawiciele obu ośrodków badawczych, organizacji pozarządowych zajmujących się walką z nowotworami oraz reprezentanci szkół medycznych i jednostek naukowych z całej Polski. Wśród nich znalazł się też m.in. jeden z "ojców założycieli" porozumienia, profesor Waldemar Priebe.
Poland representations in the US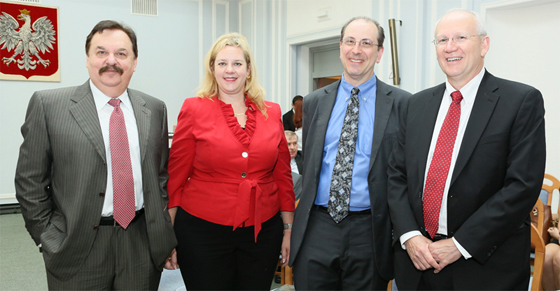 Od lewej:
Waldemar Priebe, Professor of Medicinal Chemistry, Department of Experimental Therapeutics, Division of Cancer Medicine, UT MD Anderson Cancer Center,
Kelly J Hakes, Project Director, Global Programs at the Global Academic Programs of The UT MD Anderson Cancer Center,
Oliver Bogler, Senior Vice President for Academic Affairs and Vice President for Global Academic Programs,
Raymond N. DuBois, Provost and Executive Vice President of The UT MD Anderson Cancer Center.
---