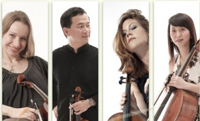 The event, titled Grieg, Haydn and Puccini – an Evening of String Quartets, will take place on Tuesday, January 15 at 7pm at Christ the King Lutheran Church in Rice Village..
The performance will feature the exhilarating String Quartet op.27 by Edvard Grieg, as well as the last finished quartet by Joseph Haydn – op.77 No.2. You will also have the chance to hear the only string quartet piece by Italian opera giant Giacomo Puccini – the short elegy: "Chrysanthemums".
This eclectic and fervently exciting program of works ranging from the end of Classical era, through the peak of Nordic Romanticism with exuberant, thick, orchestra-like sounds of the Grieg, to the thoroughly operatic Italian idiom of Puccini's Elegy – will be presented by the musicians of Meridian Ensemble:
Dominika Dancewicz – violin
Johnny Chang – violin
Olive Chen – cello
The group will be joined by an outstanding Houston Symphony violist – Wei Jiang.
Admission is free but artist will accept donations. Donations are not mandatory – we invite everyone to join us for the evening of outstanding music.
Parking is free on church's premises as well as on the streets.