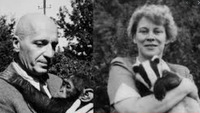 The True Story Behind 'The Zookeeper's Wife'
Comes to Theaters For One Day Only:
June 22, 2021, 7pm
These Houston theaters will show the feature:
Regal Greenway Grand Palace Stadium 24, 3839 Weslayan Street
Regal Houston Marq*E Stadium 23, 7600 Katy Freeway
AMC Willowbrook 24, 17145 Tomball Parkway
Of Animals and Men tells the true story behind the 2017 feature film, The Zookeeper's Wife. During WWII, the Warsaw Zoo carried out its function in a particularly rebellious manner with its abandoned enclosures providing shelter to persecuted men and women. Hundreds of Jews found such shelter in the zoo's empty stables, kennels and aviaries, as well as in the house of the zoo's director, Jan Żabiński, and his wife, Antonina.
Weaving together archival materials, recreations, and testimonies of witnesses and survivors, Of Animals and Men tells an extraordinary tale of courage and passion.
Narrated in English, by Antonina Żabiński, OF ANIMALS AND MEN shows the surreal atmosphere of the Zoo before the war using archived footage, as well as the poignant events that occurred once the Nazis invaded Poland. The documentary also uses interviews with survivors, footage of the Warsaw Zoo, the Żabiński family and their villa; along with reenacted scenes with animals to portray the courageous and noble acts of the family during the War.
Directed by Łukasz Czajka, OF ANIMALS AND MEN shows the love and dedication the family had for the animals they lived amongst, and the devastating destruction caused by the German army as they deported animals they wanted for the Reich while destroying many others in the zoo. The Żabiński family lived at the Zoo throughout the war and managed to conduct underground activities there, despite the threat of the proximity of German checkpoints, a weapon storehouse and Germans walking around the Zoo premises.
"This coexistence of humans and animals at war created an unusual, surreal atmosphere, which is also the reason why I am so personally attached to this story. The story of the Żabiński family, their animal filled villa in the Warsaw Zoo, their wartime actions, and the people they saved is very important to me," said director Łukasz Czajka. "I've had this story on my mind for a few years, and I just had to tell it."
"Fathom is honored to show this poignant documentary that showcases true heroism," says Fathom CEO Ray Nutt. "Audiences will never forget meeting this extraordinary family."
---
Director's Bio
Łukasz Czajka was born in Warsaw. He is a graduate of Wajda School. He also holds degrees in Political Science from the University of Warsaw and the Centre for Latin American Studies. He's an experienced TV reporter as well as a creator and designer of video games, which have been translated into a dozen foreign languages. For four years, he's been fascinated by the story of the Żabiński family and wartime events at the Warsaw Zoo.