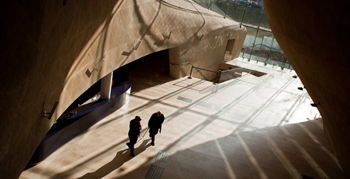 WARSAW JOURNAL
Poland Reconnects to Jewish Past With Museum
BY NICHOLAS KULISH
In the entryway of the new Jewish museum here this week, Poland's chief rabbi unveiled an unusual sculpture: an old, hollowed-out brick engraved with a single Hebrew letter.
Read whole article
The Jewish Hero History Forgot
BY MARCI SHORE
SEVENTY years ago today, a group of young men and women fired the shots that began the largest single act of Jewish resistance during the Holocaust.
The Warsaw Ghetto uprising is rightly commemorated — through books, memoirs and movies — as an extraordinary act of courage in the face of near-certain death. Those who fought in the ghetto provide the iconic image of heroism, and an antidote to images of Jews being led to the gas chambers.
Read whole article